---
01554 741 350 or 07595 479 357
---
01554 741 350 or 07595 479 357
EXTERNAL PROPERTY CLEANING SWANSEA
Swansea external property cleaning services covering Swansea and Wales
---
External property maintenance services
---
We have the most advanced equipment for specialist exterior cleaning techniques currently available including: low pressure steam cleaning using super heated water, hot and cold high pressure washing, media blasting, chemical dosing, Render cleaning machines and the latest Softwashing equipment.
---
Our passion for excellence
---
M&S Exterior Cleaning are a leading property cleaning and maintenance service provider throughout Carmarthenshire and North Ceredigion, Wales. We provide planned property exterior cleaning and maintenance to both commercial and residential customers. Through our passion for excellence, M&S Exterior Cleaning are renowned for providing a high quality and reliable cleaning service to our customers throughout Wales.
---
Husband and wife team
---
M&S exterior Cleaning is led by Husband and wife team Mike and Chloe Underwood. We have 18 years experience of General, Project and Facilities Management in the Retail sector and 5 years running our Exterior Cleaning and Restoration Company. We guarantee that you will receive a level of customer service and attention to detail that you have not experienced before from an exterior cleaning company. Any large projects are personally supervised by the directors to make sure every step is completed to a fantastic standard.
---
Property cleaning company
---
For all your property cleaning and maintenance needs throughout Carmarthenshire and North Ceredigion, Wales and the surrounding areas, contact us first on 01554 741 350 or email info@mandscleaning.co.uk.
If you would prefer to get a callback, then simply fill in our online contact form below and one of our team will get back to you as soon as they can. Please include as much information as possible in the 'message' section on the contact form.
---
Contact us
---
---
Quality of service and workmanship that is second to none
---
We are not the largest but we offer a quality of service and workmanship that is second to none. Our small but highly trained team are polite, smartly uniformed and led by an advanced CRB checked supervisor. We will operate with the minimum disruption to your activity, out of hours and at weekends if advantageous. Call us now for a free sample clean of your property, be it a roof, rendered wall, cladding, window frames or paving, we know you will be impressed.
We pride ourselves on being able to clean every surface of your property and give you sound advice about ongoing maintenance that will preserve and protect your biggest assets. If you are reading this it means that you care about your property, we appreciate that most individuals and many companies have a huge amount invested in their property, whether it is your home, retail outlet or any other building. It's important that it looks good and that costly building materials are maintained and protected wherever possible.
---
Our exterior hard surfaces are the first line of defence
---
Over time buildings and external hard surfaces in Britain suffer the effects of erosion from rain and wind, oxidation and pollution from the atmosphere, biological growth eating surfaces away, cycles from our seasons with heat and UV damage from the Sun and the expansion of freezing cold ice. Nature is constantly trying to take back the elements that we have borrowed to build every property in the U.K. Our exterior hard surfaces are the first line of defence that keeps the ravages of time and nature at bay.
The way that these surfaces are cleaned and maintained can play a huge part in their performance and how long they last, not to mention the way that they look. We are passionate about understanding the most effective ways to clean and maintain these surfaces.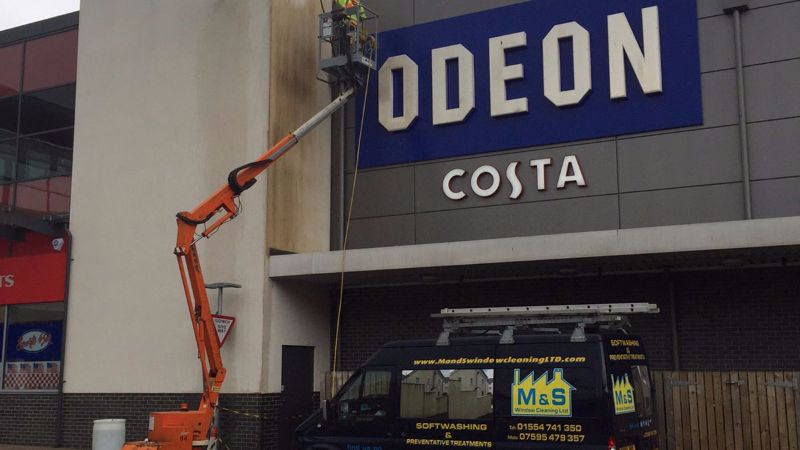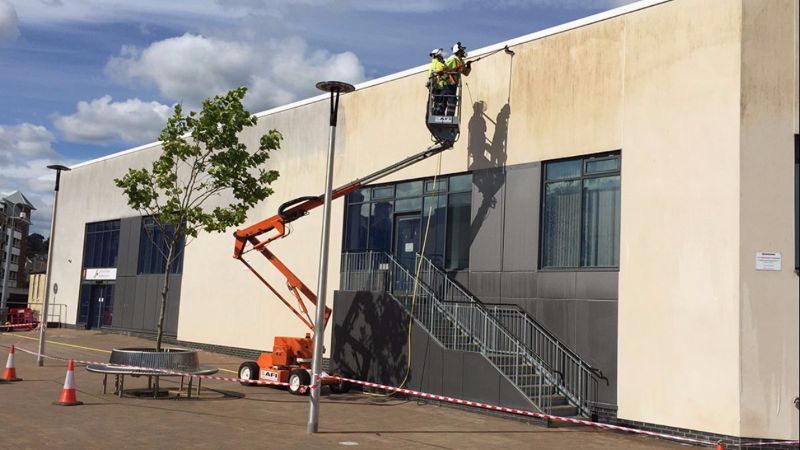 ---
Cleaning and maintaining your property
---
We have witnessed so much irreversible damage done to property from inappropriate cleaning methods and lack of knowledge that we have made it our mission to protect our customers valuable property. If you need advice about cleaning and maintaining your property, we will provide as much help and advice as possible.
Many modern building materials are rich in minerals, biological growth (Algae, Mould, mildew, Lichen, Moss, bacteria and fungus) thrive on them as they provide the moisture and nutrients needed to sustain life. These biological growths are natures wrecking ball, although slow acting, given enough time they will without fail destroy a building if left unchecked. We can expertly clean these contaminants away without causing damage to the substrate.
---
The most advanced systems for cleaning
---
The equipment that we use for cleaning is at the cutting edge in the industry, this allows us to complete the work in a cost effective, quick and efficient way to an excellent standard. We have invested in the most advanced systems for cleaning currently available, some we have even developed where a suitable solution did not exist. We guarantee that you will receive the highest level of technical expertise and care currently available.
We have also invested in all training possible to ensure that we are the experts at the particular cleaning task at hand. We have enhanced our knowledge with some of the leaders in the Exterior Cleaning industry from the UK, Europe and the United States. We specialise only in Exterior Cleaning and therefore we have an unrivalled depth of of knowledge in our field.
We have all the access licences required including IPAF, PASMA and Rope Access for Roofs. If you require any other credentials we will be happy to look at attaining them to improve our service.
Health and safety is paramount to us, we have H&S professional support 24 hours a day and we are accredited by CHAS, you can rely on a robust and bespoke RAMS for every project and even more importantly dynamic management of the project in hand.