---
01554 741 350 or 07595 479 357
---
01554 741 350 or 07595 479 357
RENDER CLEANING SWANSEA
Swansea render cleaners
---
How can I best care for the rendered walls of my property?
---
Modern coloured through render is an attractive low maintenance finish. It is designed to be the finished surface and last in excess of 25 years. Manufacturers of cementitious render include K rend, Weber, Parex and Monocouche. However, as with all exterior hard surfaces it requires periodic cleaning and maintenance.
---
Why do my rendered walls look dirty?
---
Over time rendered walls can look discoloured with Green, Red and black staining and streaks. This staining is usually caused by a cocktail of biological growth such as algae, cyanobacteria, yeasts, Protozoa, and Fungi. These represent the Green (Algae), Red (Trentepohila) and Black (Gloeocapsa magma) staining commonly found on walls.
If the growth becomes very advanced there may also be the presence of Moss and Lichen. These growths can be extremely damaging to the rendered surface as they literally eat away at the surface. It is possible that the render may also be stained by in-organic material such as rust, bird mess and pigment from window frames.
---
Should I paint or seal my Render?
---
Through coloured render should never be painted with general masonry paint or waterproof sealer as it is a porous material and is designed to let the building breath.
---
K Rend say on their website:
---
"We would not recommend a sealer to be applied to K Rend as it is a breathable product which lets the substrate breath outwards and any sealer will stop this process."
In recent years specialist breathable paints have been developed in the event of repair being needed to damaged render, or to change the colour. However the surface will continue to need periodic cleaning. Also breathable sealers are now available to repel water, however the render will still require periodic cleaning.
If you do decide to paint or seal your render great care should be taken to use special breathable products to avoid permanent damage and damp ingress. We can help you should you wish to do this, however, It is important to weigh up the cost, as these paints and sealers are extremely expensive to buy and apply to the property and it is essential that the surface is thoroughly cleaned and treated before this work is undertaken.
In summary, unless you need to change the colour of the property painting may add thousands of pounds of unnecessary maintenance costs. Sealing will keep the surface dryer but will not stop biological growth.
---
How can I clean and maintain it?
---
We would recommend that you use a professional, certified exterior cleaning company to care for your render. After an initial deep clean we can apply a treatment that will give long lasting protection and a periodic maintenance visit can keep the property looking perennially clean. All the products we use are certified and recommended by the render manufacturers and will not impact any warranties.
We offer a fantastic level of service and we always make sure that the work is done safely. We always protect your property and treat it with the greatest respect, leaving it clean and tidy after we have finished the job.
This is by far the most cost effective way of maintaining your rendered walls, and your property can look as good as new...all the time.
As recommended by the render manufacturers we use specialist Biocidal and Fungicidal treatments to clean and thoroughly kill all Filamentous roots and Spores present.
We are the experts at gently and effectively cleaning all kinds of walls and we have a good knowledge of the various products used and construction techniques.
---
My walls are already painted, can they be cleaned?
---
Yes, we can clean painted walls and this is often all that is needed if the paint is in good condition, this could save thousands compared to the cost of scaffolding, paint and labour to re paint.
---
Can you Clean My Pebble Dash, Dry Dash or Rough Cast?
---
Yes, we can. You may be amazed at the results. Pebble dash can be challenging to clean as any kind of high pressure or agitation with a scrubbing brush will damage the surface, so these methods are off the table. That is where the specialist chemical cleaning that we employ comes into play as we can apply the cleaner that will kill all of the biological growth on the walls that causes the staining.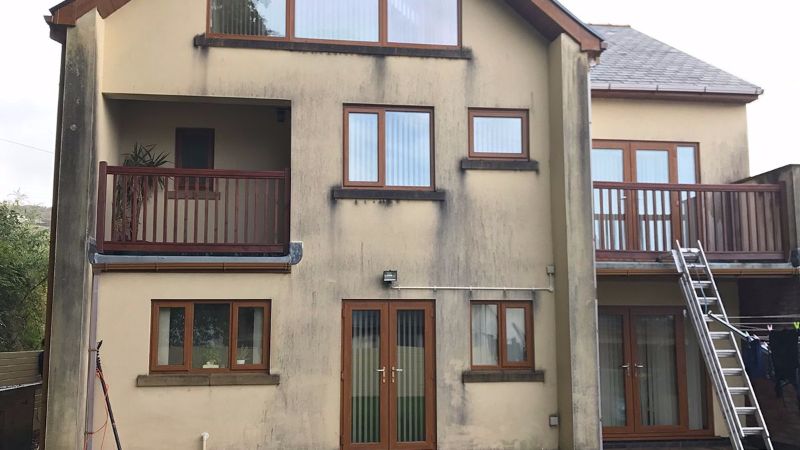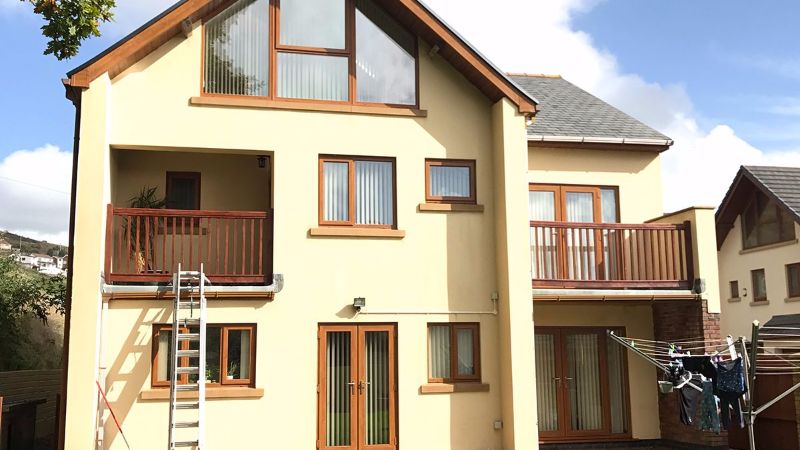 Get in touch
---
For all your property cleaning and maintenance needs throughout Carmarthenshire and North Ceredigion, Wales and the surrounding areas, contact us first on 01554 741 350 or email info@mandscleaning.co.uk
If you would prefer to get a callback, then simply fill in our online contact form below and one of our team will get back to you as soon as they can. Please include as much information as possible in the 'message' section on the contact form.