---
01554 741 350 or 07595 479 357
---
01554 741 350 or 07595 479 357
PAVING CLEANING SWANSEA
Swansea paving cleaners
---
Paving cleaning and maintenance
---
Below are some common materials used in paving of paths, patios and driveways along with a brief explanation of our recommended cleaning methods. Often after we have conducted an initial deep clean and repair, an annual maintenance visit will keep your surface looking clean and protected all year around.
---
Natural stone paving
---
One of the most attractive types of paving is natural stone. Limestone, Granite and Sandstone are an increasingly popular investment to enhance beautiful gardens. Stone can be extremely porous and susceptible to the growth of algae, moss and black spots of Lichen. Often this makes the beautiful stone look black, dirty and unrecognisable. It can also become extremely slippery causing safety issues. We can restore the stone to its former glory and advise you on weather your patio would be suitable for sealing. Often the pointing on stone patios can deteriorate with time and the elements. We can also repoint your stone patio to truly bring it back to looking like the day it was laid.
---
Block paving driveways
---
Moss, weeds and biological growth are the main cause of stained, discoloured and untidy looking block paving. Block paving is designed to be robust and it will generally put up with a regular pressure wash.
We would recommend an annual pressure wash to remove any weeds, a re-sand to maintain the stability, also a chemical post treatment to clean and protect the blocks. We also generally advise an application of weed killer to keep the block paving looking its best all year. staining from oil, paint or other sources can also detract from otherwise clean block paving and we may also be able to help you with this.
---
Concrete paving
---
One of the most common materials found is concrete paving. Often Concrete paving has an attractive smooth skim or moulded finish. This can often be done to imitate natural stone. This finish is very delicate and repeated or high pressure washing can remove this finish and expose the aggregate that makes up the flag stones. This destroys the look of the paving and will make it more susceptible to future biological growth and staining. We would recommend a low pressure chemical clean of this type of surface to preserve the finish and keep it looking great.
---
Tarmac driveways
---
Tarmac is susceptible to general dirt, wear and tear and the way it holds water on the surface makes it a breeding ground for moss. Tarmac can be quite soft so great care needs to be taken if using a pressure washer as the pressure needs to be adjusted accordingly. We can clean your tarmac drive and treat the moss to kill it off and prevent it from returning.
---
Wooden decking
---
Wooden Decking and external furniture can be a beautiful material that softens and balances other surfaces. Planned maintenance is required to keep Decking in optimum condition, as algae and fungus can turn a deck into a slimy slippery mess very quickly.
We can restore your deck, treat it to prevent algae growth and keep it clean and safe. Treating the deck will also prevent the onset of rot which is the biggest enemy of a decks lifespan.
Whether you have an IPE hardwood deck or a common pressure treated pine material, we can strip, restore, enhance, colour and seal it for you.
Composite Decking is increasingly popular and is much less susceptible to biological growth, however an annual clean is advised to keep it clean and grippy.
---
Resin bonded driveways
---
Generally this surface is low maintenance but will suffer from the same biological growth as others including algae, fungus and moss growth. This needs to be cleaned away gently to avoid any damage and then it can be cleaned with non corrosive chemicals to sanitise the surface of spores.
Whatever the surface of your patio, path or paving you can trust us to clean it properly and provide the longest lasting clean possible.
---
Our 6 step restoration process
---
Do you spend your weekend every few months pressure washing or scrubbing the block paving? Perhaps you have paid a gardener or handyman to do it? Before you know it the discolouration, algae and moss is back! This can be very frustrating for you or the person you have paid to do it.
Our 6 step restoration process can restore your block paving and keep it looking good for years to come! We will also make sure that we protect your plants and lawn during the cleaning process with special edge cleaning tools and techniques. Typically our restoration service will involve chemical post treatment and stain removal, light pressure or steam clean, re-sand or re-grout, biocidal treatment to kill the roots and spores, protective coating, weed inhibitor treatment and optional maintenance visits.
This process is much more involved than just pressure washing, and may require a number of visits however will provide far greater longevity of clean and much greater protection from damage. Relax, enjoy your weekend and let us take the pressure out of caring for your block paving.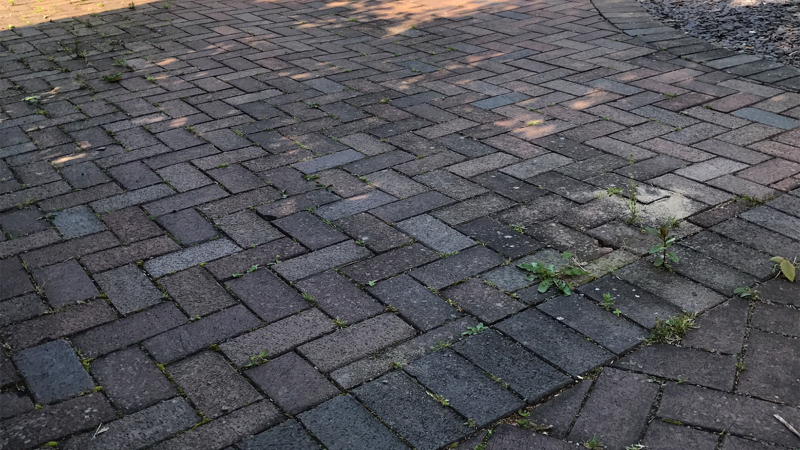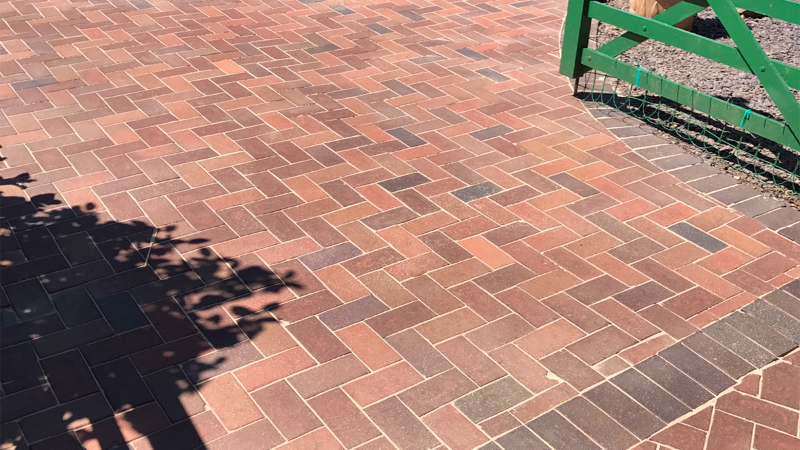 Get in touch
---
For all your property cleaning and maintenance needs throughout Carmarthenshire and North Ceredigion, Wales and the surrounding areas, contact us first on 01554 741 350 or email info@mandscleaning.co.uk
If you would prefer to get a callback, then simply fill in our online contact form below and one of our team will get back to you as soon as they can. Please include as much information as possible in the 'message' section on the contact form.