---
01554 741 350 or 07595 479 357
---
01554 741 350 or 07595 479 357
ROOF CLEANING SWANSEA
Swansea roof cleaners
---
Transform the look of your roof
---
The appearance of many otherwise well kept properties is often let down by the condition of the roof.
However It is possible to transform the look of the roof with some basic cleaning and maintenance. This can often also increase the lifespan of the roof as Moss, Lichen and other biological growth can actually eat away at the surface of the roof. Moss growth may push apart tiles and slates causing water creep, destroy pointing, and eventually cause leaks.
It is important however to take care when choosing a contractor to clean your roof as there are some very important considerations.
---
Can the work be completed without causing damage to the roof?
---
The use of high pressure washers and walking on the surface of the roof by untrained and inexperienced individuals can cause damage and rather than extending, could reduce the lifespan and performance of your roof.
We are experienced in cleaning all kinds of roof surfaces from a membrane roof on a commercial building or a Slate roof on your cottage.
Each type of roof surface and staining or growth requires an individual approach as the methods, products and equipment need to be tailored to the individual roof surface and the type of staining.
We employ the use of specialist equipment to remove the biological growth such as moss and staining from fungus and other sources. these include special long reach plastic scrapers, chemical pumps, low pressure steam and rinsing equipment, plus a good old fashioned stiff brush.
---
Will the cleaning be effective?
---
Simply cleaning away moss, Lichen, Fungus and other biological growth may make the roof look clean for a short time, however this growth may be back in very short order. The reason for this is that these growths have a root system, often this is microscopic and invisible to the naked eye.
Just pressure washing away moss for example does not deal with the root of the problem and the moss will return very quickly. That is why we would recommend treating the roof also to kill off any roots and spores and completely sanitise the roof surface.
We use specialist chemicals and biocides to clean the roof and also kill off any biological growth such as moss and Lichen.
---
Can the work be done safely?
---
Safety is a major consideration when working on roofs due to working at height regulations and the inherent risks of working on covered roof surfaces. Unfortunately several people have been killed and many more prosecuted for unsafe working practices in recent years.
Health and safety is always our first priority when we undertake a roof cleaning project. We undertake and supply a robust Risk Assessment before any work commences and the directors always supervise the work to ensure dynamic management of the project.
---
We have the following credentials for your peace of mind:
---
CHAS accredited contractor SSIP.
24/7 Health and Safety consultation provided by Rubicon Safety Specialists.
Pal cards provided by IPAF for Powered Access when required.
We are trained by Lyon work and rescue for Rope Access work positioning and rescue, along with the safe use of roof ladders. Lyon are the trainers of choice for many emergency services.
PASMA certification for mobile Scaffold towers.
Biocide use Training and certification.
Water Jetting Safety Awareness and competence.
All our employees are trained in general first aid, manual handling, asbestos awareness and other applicable areas.
Often this training, rather than adding cost, allows us to complete work in a more cost effective manner. For example our specialist rope access ability often means that we can safely complete work without the need for a costly cherry picker and this saving would be passed on to you the customer.
---
Low pressure cleaning system
---
Biological growth can cause unsightly staining on a roof and can greatly reduce its lifespan. Moss growth in particular can erode and damage many surfaces and cause problems with blocked gutters and damp ingress.
High pressure washers can be very damaging to many roof surfaces, so we can clean and treat your roof using a low pressure cleaning system that will thoroughly clean and disinfect the surface.
---
A fantastic level of service guaranteed
---
Why not call us for a no obligation survey of your roof? We guarantee you will experience a fantastic level of service.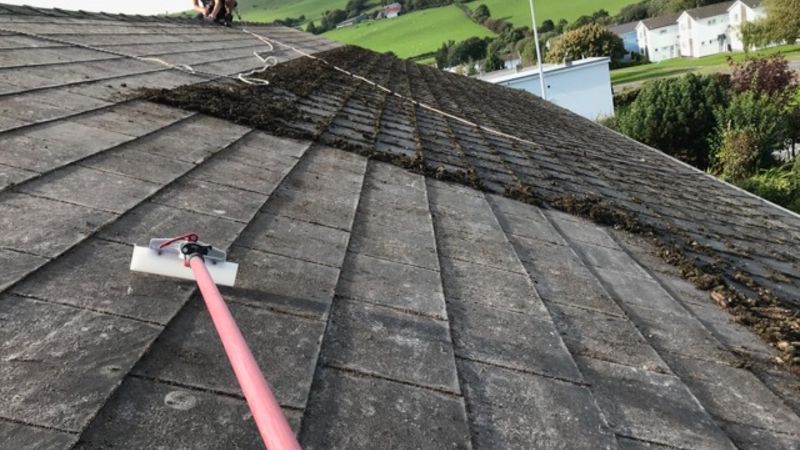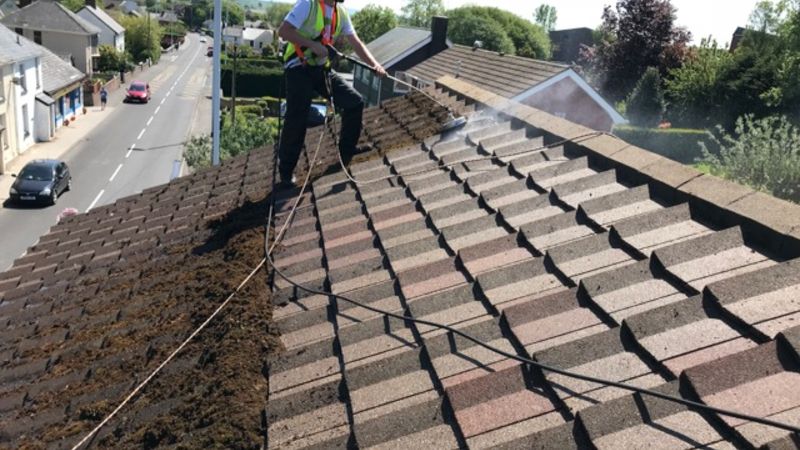 Get in touch
---
For all your property cleaning and maintenance needs throughout Carmarthenshire and North Ceredigion, Wales and the surrounding areas, contact us first on 01554 741 350 or email info@mandscleaning.co.uk
If you would prefer to get a callback, then simply fill in our online contact form below and one of our team will get back to you as soon as they can. Please include as much information as possible in the 'message' section on the contact form.